With the Teryx KRX® 1000 already the source of great excitement in the sport side x side category, Kawasaki has added two new models to the Teryx KRX® 1000 line up, with the addition of the Trail Edition and Special Edition for 2021. The two new models come with factory-equipped accessories and special color and graphics offering a broader selection for adrenaline-filled adventure enthusiasts to be their own master of the woods and rock trails.
The Kawasaki Teryx KRX 1000 sport side x side is engineered for high adrenaline adventures and conquering tough terrain. Powered by a durable 999cc parallel twin engine paired with a CVT transmission and centrifugal clutch, the Teryx KRX 1000 has the power to tackle a whooped-out trail and the torque to conquer technical rock crawling sections. A high-rigidity frame with integrated Roll Over Protection Structure (ROPS) positions the wheels as far apart as possible to provide a sure-footed stance, superb cornering and straight-line stability. Obstacles on the trail are soaked up by FOX 2.5 Podium LSC shock units, which combined with long suspension arms give the Teryx KRX 1000 the longest suspension travel in its class. A roomy cockpit features half doors and adjustable high-back bucket seats to deliver outstanding rider comfort no matter the terrain. Every aspect of the Teryx KRX 1000 has been engineered with Kawasaki's dependable, proven performance to outmuscle anything that stands between you and an adventure of a lifetime.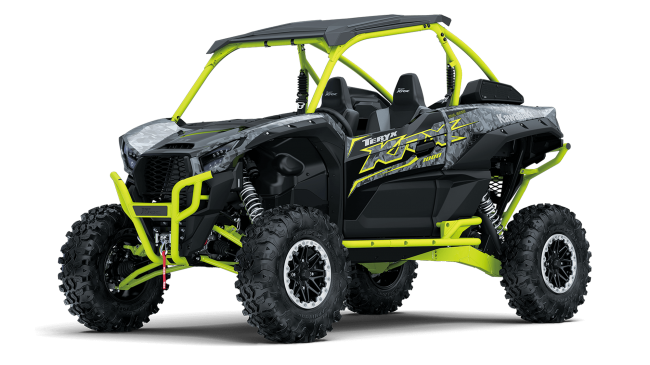 Highlights of the All-New 2021 Teryx KRX® 1000 Trail Edition
NEW Durable, Tubular Steel Bumpers and Nerf Bars
NEW KQR™ Sport Roof
NEW WARN® VRX 45 Powersport Winch
NEW Special Color & Graphics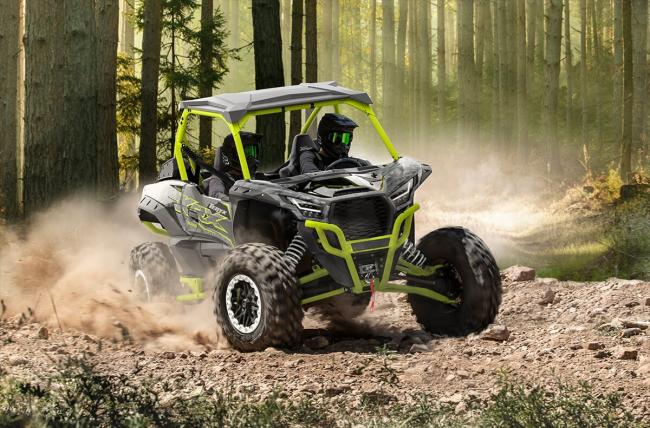 Bumpers and Nerf Bars
The Teryx KRX® 1000 Trail Edition sport side x side comes equipped with both Front and Rear Sport Bumpers, as well as Nerf Bars on the sides, all of which add to the aggressive appearance while increasing protection to the vehicle from obstacles encountered on the trail. Running along the bottom of the vehicle's sides, tubular steel Nerf Bars help protect the Teryx KRX 1000 from branches encountered on the trail. The stylish durable tubular steel Sport Front and Rear Bumper and Nerf Bars are finished in Texture Pearl Neon Yellow powder coating to match the other highlights of the Trail Edition.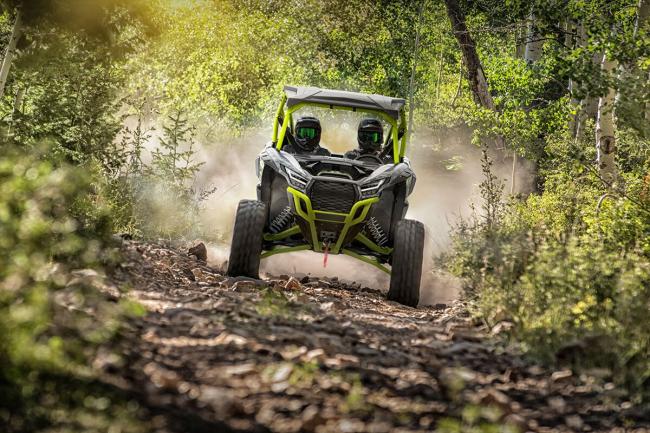 KQR™ Sport Roof
The KQR™ Sport Roof (featuring quick release capabilities) comes as standard equipment on the Teryx KRX 1000 Trail Edition and helps to shelter passengers from harsh weather and sun. A lightweight contoured design made from semi-rigid black textured plastic, the KQR Sport Roof contributes to the vehicle's styling. It can be easily removed or installed without tools. Pre-configured mounts also allow for the addition of up to six accessory LED Dome Lights.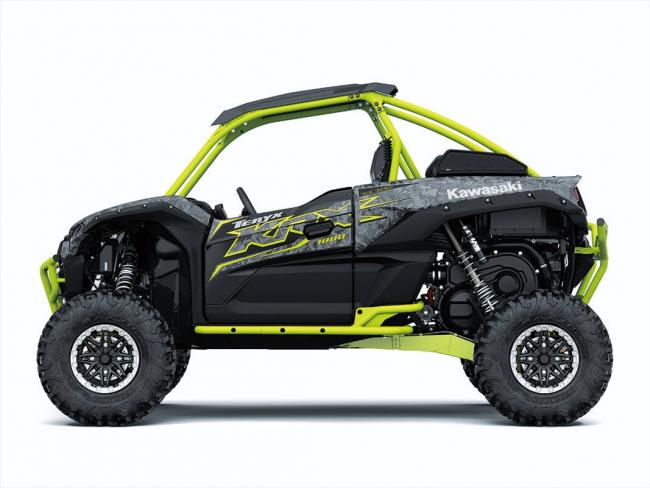 WARN® VRX 45 Powersport Winch
A WARN® VRX 45 Powersport Winch is fit as standard equipment on the Teryx KRX® 1000 Trail Edition. Built using premium components and offering market-leading performance and features, this handy tool perfectly complements the high quality of the Teryx KRX 1000.
The WARN VRX 45 winch has 50' of durable, aircraft-grade ¼" steel rope backed by a 4,500 lb. capacity. A load-holding roller-disc brake offers great control, while a three-stage planetary gear train ensures smooth, efficient operation. Its all-metal construction, complete waterproof sealing for the motor and drivetrain, and corrosion-resistant stainless-steel fasteners contribute to superb durability and build quality. It also features an illuminated dash-mounted rocker control switch that is complemented by a corded remote.
Instrumentation
A low voltage warning has been added to the LCD display, to provide the driver with all the necessary information when driving with multiple accessories in use.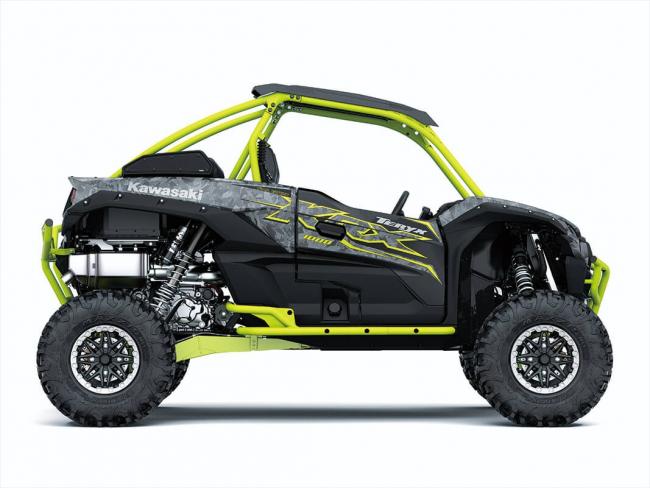 Special Colors & Graphics
The Teryx KRX® 1000 Trail Edition is available in a highly durable Fragment Camo Gray immersion graphics finish including ROPS, Nerf Bars, and A-arms finished in Texture Neon Yellow and paired with silver-colored suspension coil springs provide a high-contrast counterpoint to the black base coloring. High-definition graphics contribute to the no-nonsense styling.
Highlights of the All-New 2021 Teryx KRX® 1000 Special Edition
NEW High-Grade Hifonics® Audio System
NEW WARN® VRX 45 Powersport Winch
NEW Special Color & Graphics
!function(f,b,e,v,n,t,s){if(f.fbq)return;n=f.fbq=function(){n.callMethod?
n.callMethod.apply(n,arguments):n.queue.push(arguments)};if(!f._fbq)f._fbq=n;
n.push=n;n.loaded=!0;n.version='2.0′;n.queue=[];t=b.createElement(e);t.async=!0;
t.src=v;s=b.getElementsByTagName(e)[0];s.parentNode.insertBefore(t,s)}(window,
document,'script','https://connect.facebook.net/en_US/fbevents.js');
by Dustin Fedak and our friends at www.utvunderground.com